Home
>
Products
>
Isolation switch
>
Load Switch-fuse Combination FZN25A-12(D)/T630-20 FZRN25A-12(D)/T200-31.5 AC high voltage gas production load switch/High voltage from JUCRO Electric
Load Switch-fuse Combination FZN25A-12(D)/T630-20 FZRN25A-12(D)/T200-31.5 AC high voltage gas production load switch/High voltage from JUCRO Electric
| | |
| --- | --- |
| Categories | Isolation switch |
| Album | View larger image |
| Brand | JUCRO |
| Model | FZN25A-12(D)/T630-20 FZRN25A-12(D)/T200-31.5 |
| FOB port | SHANGHAI/NINGBO |
| Terms of Payment | L/C, Western Union, MoneyGram, T/T |
| Update Time | 2019-01-20 |
FZN25A-12(D)/T630-20  FZRN25A-12(D)/T200-31.5  AC high voltage gas production load switch/High voltage load switch-fuse combination from JUCRO Electric
FZN25A-12(D)/T630 indoor AC high voltage vacuum load switch (hereinafter referred to as load switch) is suitable for three-phase AC, 50Hz, 12KV power supply network, as the breaking load current and closing short-circuit current. The product is equipped with manual and motor operating mechanism, especially suitable for occasions under severe conditions, without long maintenance period and frequent operation requirements. Vacuum load switch with fuses - fuse combination appliances (hereinafter referred to as combination appliances). FZN25A-12(D)/T200 can break short-circuit current for short-circuit protection. The product has a mechanism tripping, and the fuse has a bumper. When an overload current or a short-circuit current is passed, the fuse is blown, and the striker hits the trip device to automatically open the load switch to avoid phase loss operation.
Normal use environment:
1. Ambient air temperature: up to +40 ° C, minimum -25 ° C;
2. The altitude does not exceed 1000mm;
3. The daily average relative humidity is not more than 95%, and the monthly average is not more than 90%;
4. Earthquake intensity: below level 8;
5. The surrounding air should be free from harmful gases such as corrosive or flammable gases and water vapor.
Main technical parameter
Main electrical technical parameters
 Item

Unit

FZN25A-12D/T630

FZRN25A-12D/T200

Rated voltage

KV

12

12

Rated Frequency

Hz

50

50

Rated Current

A

630

200


Rated breaking current

Active load breaking current

A

630

 

Closed loop current

A

630

 

No-load transformer

KA

1600

1600

Cable charging current

A

10

 

 Rated transfer current

A

 

3150

Rated short-time withstand current (4S)

KA

20

 

Rated peak withstand current

50

 

Rated short-circuit breaking current

KA

 

3.15

Rated short circuit closing current

KA

50

 

Rated short-time 1 min  power frequency withstand voltage
On the groud and  Fracture

KV

42/48

42/48

 Rated lightning impluse withstand voltage(peak)

KV

75/85

75/85
Main mechanical property parameters
Parameters

Unit

Numerical value

Remark

Vacuum interrupter opening distance

mm

6

 

 Vacuum interrupter contact stroke

mm

-2


Measuring contact spring compression stroke

 Isolation fracture opening

mm

≥130

 

Interphase center distance

mm

210±1

 

Three-phase closing of vacuum interrupter

ms

≤3

 

Vacuum interrupter allows
contact closing bounce time

ms

≤3

 

Vacuum interrupter average closing speed

m/s

0.6±0.2

 

Vacuum interrupter average closing speed

m/s

0.9±0.2

 

Conductive loop resistance

μΩ

≤300

 

Maximum operating torque required
 for human operation

Nm

≤160

 

Mechanical life

Times

10000
Motor technical parameters
| | | |
| --- | --- | --- |
| Rated voltage | Rated output power | Normal operating voltage range |
| 220 | 70W | 85%-100% Rated voltage |
Shunt release parameter
| | |
| --- | --- |
| Rated voltage | Normal operating voltage range |
| DC220 DC110 | 80%-120% Rated voltage |
Outline technical parameter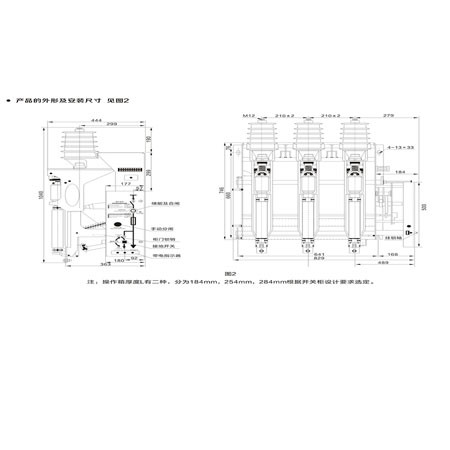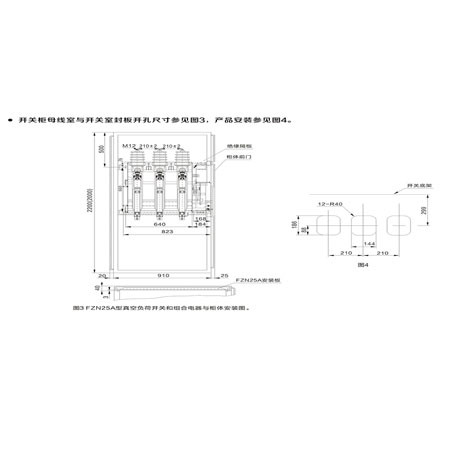 Please send your message to us
*
We will reply your inquiry to this Email as soon as we see it
Professional production line solution provider!

Sign up today for hints, tips and the latest product news - plus exclusive special offers.
Tel:+0086-18131539058
We don't do spam and Your mail id is very confidential.